Updated July 2021

Most store owners have no idea how important a friendly, good return policy is to their business. In my humble opinion, store owners, especially new ones, worry far too much about their return policies. Yes, returns cost you money. So does your merchandise, shipping, rent, staff, and marketing. These are all part of the cost of doing business.
I also completely understand how tight finances can be for a new business and how important it is to not spend money on anything you don't have to. Unfortunately, the end result can deliver a less than great customer experience, or harm the trust a potential customer has in your site. This can lead to far lower sales.
One of the key questions that factors into whether or not someone will buy from you is how you answer "can I return this item?" A weak answer will discourage many. Thus a good return policy can actually help you make more sales and grow faster.
You compete with Amazon
No matter what product you sell, you are competing with Amazon. Yes, even if Amazon does not sell your exact product you are still competing with them. Why do I say this?
Because Amazon has set the bar on customer experience and support expectations. Customers have grown to expect fast, free fulfillment and delivery. They expect easy returns if they don't like it. They expect you to act like you value their business.
This is the reason we here at Redline Minds generally recommend stores aim for shipping orders out the day they come in, avoiding slow but cheaper shipping methods (like SmartPost, epackets and Mail Innovations), and offering liberal return policies.
Value is a matter of perception, not price
Success in retail is pretty simple. It all boils down to perceived value. When a potential customer sees something that has value to them, they buy it. Value takes many forms and can be unique to the customer. All of these can factor into the perception of value.
A lower price than competitors – Price does matter but not every buyer shops price, and even those that do don't always choose the cheapest vendor. Those that do choose exclusively on price are often the least loyal customers. Relying on always having the lowest price will drive you crazy and be an expensive way to grow your business.
Coolness – No one really needs chrome spinner wheels and low-profile tires, or Manolo Blahnik shoes. These items are purchased because they are cool. Something can be perceived as cool even when it isn't unique. Louis Vuitton purses are not rare. Those who buy them simply want them to impress others.
Uniqueness – Rarity and uniqueness are both draws to many people. It makes them feel special and they will pay more for it. This includes a unique feature set. Why is my Instapot more desirable than a Crockpot? (it is,  trust me on that)
Fills a "want" (most people invest more in wants than needs) – Yes, I really want another pair of pajamas with dachshunds on them. No, I don't really wear pajamas. Doesn't matter though.
Ease of use – People like easy or easier. Does this product make my life easier?
Trust – Do they trust the product brand? Do they trust you as the seller? This is a critical component of  retail success that merits it's own topic. Your return policy adds or detracts from your  trust factor.
Hits some emotional trigger – Buying  that widget makes me feel good. It makes me feel good to gift that to mom. I love the idea that I'm supporting orphans. You get the idea.
A good return policy adds to buyer trust
I'm going to tell a story here. I'm a dachshund lover so I'm part of a number of dachshund-oriented Facebook groups. This was posted in several of  them a few days ago.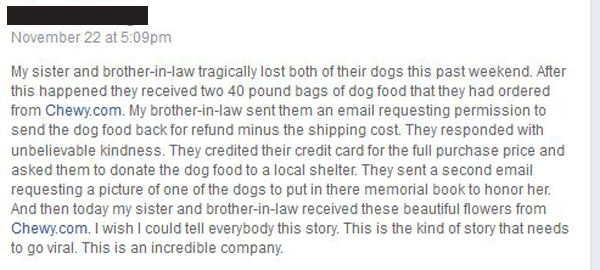 It reads:
"My sister and brother-in-law tragically lost both of their dogs this past weekend. After that happened they received two 40 pound bags of dog food that they had ordered from Chewy.com. My brother-in-law sent them an email requesting permission to  send the dog food back for refund minus the shipping cost. They responded with unbelievable kindness. They credited their credit card for the full purchase price and asked them to donate the dog food to a local shelter. They sent a second email requesting a picture of one of the dogs to put in their memorial book to honor her. And then today my sister and brother-in-law received these beautiful flowers from Chewy.com. I wish I could tell everybody this story. This is the kind of story that needs to go viral. This is an incredible company."
For the record, this is Chewy.com's actual return policy: (click it to read it)

Pretty darn simple isn't it. It doesn't cover shipping costs, restocking fees or time limits. ALL of those issues are handled by the customer service  representative. The agent has been empowered to make a judgement call. This isn't the first time I've heard this story.
Why this is genius
One of the main deterrents to making a purchase is the fear that the product won't be right. There's a fear it won't fit, the color will be off, the quality may be poor, I won't like it, or even I've changed my mind. If it can't be returned, easily, the odds you will lose the sale rise dramatically.
Chewy's isn't the only store that has an "any reason" return policy. Ebay and Amazon are two big companies who are also liberal with returns. Nordstrom has had easy returns for decades, long before the Internet.
This article from Hubspot lists eight reasons why people don't buy from your store. Two of the primary reasons people don't buy from your store are tied directly to your return policy.
 "I'm not sure my company really needs [product]. " While Hubspot talks about the perils of targeting the wrong customer, this is really a sale that is made or lost based on your return policy. "I'm not sure…" can be overcome with "if you don't like it, we'll take it back without hassle."
You don't want the prospect to feel safe. Your content doesn't instill confidence that this is a good purchase. You can ease this fear with great product descriptions and content, but you'll see an added boost in sales when they know the decision to buy is reversible. If you're not willing to take it back, is it because you know the odds are high I won't like it?
How can you make more sales with a generous return policy?
Let's talk again about the customer who experienced Chewy's compassionate return policy. Here's how it makes financial sense for Chewy's:
80 lbs of dog food costs a fortune to ship. The profit margin on dog food is small so a return is a guaranteed financial loss.
The customer was thrilled. I can very nearly guarantee that they WILL be back to shop at Chewy's when they are ready to own another pet. No paid advertising needed. Incidentally, the keyword "dog food" costs around $6.50 each which is mighty expensive. It's almost always cheaper to keep a customer than to acquire a new one and you'll grow faster with loyal, happy customers.
Did you see the Facebook post above? In the one group alone, there were several hundred comments and 150 likes within 24 hours. It was shared into this group and several others that I know of. Who knows how viral this post has become. What's the economic impact of this? How many NEW customers did they get as a result? It also did wonders for their branding.
Thus this one act, that cost Chewy's maybe as much as $200 bought them well over that in advertising and good will. They will make thousands, if not tens of thousands, of dollars off this one return. It's beginning to make sense isn't it?
Your concerns as a seller
There are legitimate concerns sellers have about a generous or liberal return policy. One is that returns cost money.
Depending upon your product and its shipping weight, returns can be very expensive and not everything you get back can be resold. If you do open up your return policy, you need to keep solid records to measure the financial impact. In some cases, it may make sense to follow Chewy's approach and let the customer keep the product.
Do the math. You may also want to slightly adjust your pricing to cover an increased rate of returns. a 1-2% increase isn't a lot. Those who are detailed enough to shop around may actually think "okay, so this price is a few dollars higher but if I don't like it, I can return it for free."  Warning: if you decide to let the customer keep the product, do not broadcast this fact. Do it on a case by case basis or you'll open your store up to outright theft.
Some customers like to return stuff. This is especially true for clothing since a final decision isn't made until the person gets to put it on. I recently heard that clothing retailers will see 1/4 to 1/3 of their holiday sales products come back. That sounds pretty expensive to me! But is it?
It can be. However, as long as they are returning products in new condition, you should be able to recover much of it. What you gain is a good chance they'll decide to swap it for something else. Many will come back because they trust your  store to cater to their needs. If you have good data tracking, you should be able to measure all this.
Some product will come back in bad shape. Handling this is a bit harder. A policy that says "we reserve the right to charge restocking fees of up to XX%" may slow some of this, but it might also hurt sales. This would be something to test.
Some customers are not nice. Take it back, then blacklist them and refuse future orders. Don't  tell them you're doing this. The last thing you want is for them to broadcast to everyone they know that you have crummy customer service.
Bad online reviews and word of mouth can kill your business. Since these people will likely never go to your site, you have no idea how much money you lost.
More about  restocking fees
John Lawson is one of my friends who also happens to be a long-time, successful ecommerce veteran and an overall really smart guy. He made this video discussing the topic for his Facebook Group – The Ecommerce Group.
FYI, Here's John's company – ColderIce.com You probably will want to buy his book.
Like most choices you will make, whether or not you should have restocking fees depends upon your business and your clientele.
Everything online is measurable. Measure it. Find the sweet spot where you make more money than you lose on your returns. Keep in mind that your return costs reduce your taxable income so you'll get some "return" there.
Customer perspective
As a shopper, I will tell you I very nearly stopped shopping at eShakti.com because they wanted me to pay to return a custom-made shirt that was made wrong. When I made a stink, they paid for the return. When I followed up with  their management, they promised to better train their customer service reps.
If I weren't in ecommerce, if I wasn't an avid fan of their high quality, well-priced clothing that fits my odd shape (I'm very short), I would not have bothered. I would also stop shopping there. I have spent more than $1000 there in the past year. I routinely share the store with all my hard-to-fit friends.
No more referrals from me, then from their friends,  could mean a significant loss of future revenue and slower growth. Remember this: every angry customer is going to tell as many people as they can. Each represents a lost opportunity to you.
A good return policy can help overcome the Amazon affect
If all stores made returns difficult, this discussion wouldn't be necessary. Thanks to an increasing number of e-tailers with generous policies, easy returns have become an expectation.
Your reputation
Your reputation, good or bad, is spreading all over the world. It's never been easier for a customer to either share the love for your brand, or disparage it. Bad reviews will hurt your business. Note: all businesses get some bad reviews. Don't delete those! Use them as an opportunity to learn and up your game.
Try to make the customer happy and encourage him to rewrite his/her review. If your review software lets you respond, do so in a caring and non-defensive manner. Customers realize that not every transaction or product is perfect. How you handle it, either instills trust or kills it.
Competitive advantage
Remember that much of your competition is still holding the purse strings so tightly they are slowing their growth. Liberal policies and top-notch customer service add to the perceived value of your company. Adding value helps to increase your conversion rate.
A positive brand reputation draws in more customers. In the end, what seems to cost you money, has the potential to drive your profits and growth over the long haul.
Does this mean I have to offer free returns?
Not necessarily. The answer to this will depend on your product, the customer, and your return rate. Some products you will likely not want to take back, or will only want  to take back with specific conditions. Even Amazon doesn't take everything back with zero cost to the consumer. I have paid return shipping on the last couple of returns I made.
You might not want to take back:
Intimate apparel and swimwear – These items may be regulated by law. Some retailers do accept them back provided they are unworn and still have the sanitary panels attached.
Anything the law says you can't take back – This varies by your local jurisdiction and might include food, drugs, supplements, or alcohol. Make sure you are compliant with the laws in your location. However, you may be able to offer a full or partial refund.
Orders shipped outside of your country – This can be a minefield as the customer may want 2-way shipping, import duties and brokerage fees returned. Most stores will accept international returns but make it clear in their terms that these returns will not include return shipping or a refund of any shipping, taxes, or import costs.
Large, heavy items, especially if they ship via freight – Returns of these items can be prohibitively expensive. If the item required assembly, it may be impossible to ship back.
Custom made products – Custom-made items can be impossible to resell.  You need to do the math to determine how to best handle these items, and may want to address such return requests on an individual basis.
Test and Measure!
Track your returns. If you need to use good old Excel or Google Sheets do it!  Keep track of:
How often you get returns (percentage of total orders),
What items or categories are returned most often (maybe it is bad product),
Which customers return,
Do you have frequent returners?
Track the total sales volume (lifetime customer value) of those who return products.
Research has shown that people who return are often your best customers and spend more over the lifetime of their relationship with your store. You need to compute the actual value of these customers – sales, net profit from sales, and the economic value of their returns including all shipping costs. Are these customers profitable?
If you have frequent returners who are a losing proposition, let them know you will not accept any more returns from them. Blacklist them! But make sure you are losing actual money from these customers.
Use the information you gather to improve your products, customer service, and grow your profits.
[/fusion_builder_column][/fusion_builder_row][/fusion_builder_container]