Our Services
The customer journey from the very moment they become aware of your business, to the point where they are both a customer and a brand advocate is complex.
Redline Minds's unique approach to ecommerce consultancy is here to support the growth of your business, in the most cost-effective and profitable way possible. More than 20 years of combined experience starting and growing online sales channels brings us a unique perspective that creates efficient growth. Each of our client relationships is custom tailored to meet the business needs of the client.
These are some of the ways we help companies grow…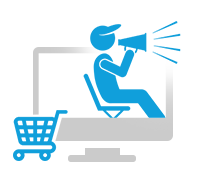 Virtual Ecommerce Director
The Ecommerce Director program is designed for businesses that can benefit from an executive-level e-commerce director who either don't have the budget or need for a full-time hire. This program is perfect for startup companies and those who already have a marketing team in place but would benefit from the guidance of experienced professionals. Our Virtual Ecommerce Director plan is your partner for strategy development, campaign and process analysis, and education. This way your business grows more effectively while maintaining cost controls.
Monthly strategy sessions to plan for marketing and growth.
Maximum flexibility to mix & match our services to fit your needs.
Best "bang" for your buck when you actively manage your business on a tight budget
Online marketing, SEO, Conversion Optimization, and design services.
Agile approach to maximize your ROI
Website / Shopping Cart Development
The team at Redline Minds has been building and growing stores for more than 14 years so we know what works, what is necessary, what's nice to have, and just as importantly what you should skip. Our technology plans reflect this experience. This allows your money to work more effectively so your company grows faster while remaining capable of scaling up as you grow. One of our key differentiators is that we are marketers. This means the sites we build are more than just pretty, they are built to move site visitors through the purchasing journey so more buy.
Build for scaling – start on a tight budget, ability to scale store to match growing volume
Inclusion of the right features to increase conversions for your audience
Graphic design and branding
Navigational design for both user experience and search engine optimization
Technical SEO – our stores are built to meet best practices for technical and on-site SEO.
All our store builds are complete and include basic software we feel is essential to your business and not often included in standard online store packages – Google Analytics, Google Search Console, Facebook tracking pixel, Bing Webmasters, Google product feed, Adwords setup, email gathering and marketing software, product reviews, social open graph and sharing
Technology Planning & Implementation
Understand exactly what software best suits your need, at the right place in your growth cycle. We'll help you plan to scale your growth while minimizing your initial expenditure so there's more money left in your budget to market and grow sales. This efficient use of your resources will grow your online sales faster than the "all in" approach many consultants implement. One-size-fits-all fits no one. Purchase what you need now and plan for your growth concurrently.
Back office – purchasing, order and customer management, reporting
Inventory & Warehouse Management
Fulfillment
Returns management
Multi-channel, multi-store
Conversion optimization tools
Marketing tools
Online Marketing
It's tempting to consider the various options for online marketing as individual efforts but maximizing your Return on Investment (ROI) is best achieved when your marketing efforts are coordinated. It is our policy to only take on marketing clients who embrace this philosophy.
Search Engine Optimization (SEO) – Ensure your visibility in top search engines. There's a right way and a wrong way to do SEO. We do it the right way.
Social Media Marketing – Everyone talks about it but with so many options do you know where you should invest your time and money? Sort through the clutter and focus your efforts in the right places.
Outreach and Influencer Marketing – Closely related to Public Relations (PR), influencer marketing places your products in the hands of people who already have a loyal following of people in your target market. 72% of shoppers buy only after considering the opinions of others. Influencer marketing delivers a higher ROI than other forms of advertising1. This is especially true for new brands.
Email Marketing – They've found your site; maybe they've become your customer. How do you keep them engaged? Email marketing remains one of the best investments you can make. However, you need a good list and compelling messages to be successful.
Content creation – Good content is no longer optional for stores that want good search engine visibility, buyer trust, and a valuable identity in the marketplace. Every word, image, and video on your site needs to enhance the buyer experience and contribute to your planned goals. A good content strategy includes the reuse of a piece of content in as many marketing channels as appropriate. This leads to better ROI.
Merchandising – A good understanding of your competitive position, compelling promotions, and product and store displays all impact your sales and conversion rates.
Referral & Loyalty programs – Whether you used cash or your time, gaining a new customer is expensive. Maximize that investment by increasing the economic value of that customer. Turn your customers into your best advocates. The ROI for referral and loyalty programs is often your best return.
Affiliate marketing – Affiliate marketing is the equivalent of having a sales team that only gets paid when they deliver. Still, there are pitfalls that must be avoided and challenges to manage. Let Redline Minds help you grow your virtual sales team.
Conversion Optimization (CRO)– Spending time and money driving traffic is a necessity but how they behave once they arrive on your site is critical to the success of your store. Let us help you optimize to maximize your conversion rate.
Voice Search and Chatbot Marketing – Stay on the leading edge of technology to delight your customers how and where they wish to shop. Increase your conversion rate.