Here at Redline Minds, our first priority is to secure your business' growth. We are an e-commerce growth firm after all and we exist to refine your digital presence. You can count on us when it comes to using cutting-edge technologies for your projects and our focus on efficiency, managing your costs to maximize your growth! 
There are a lot of companies out there who will promise you everything but only a few will reveal excellent results. That's why we're thrilled to share that we were awarded as one of the top agencies in Texas by Clutch! As a premier creative and design agency, this recognition only encourages our eagerness for delivering valuable solutions to our customers.
Clutch leverages a comprehensive approach to B2B research. As such, you can trust that any business on their awards list is sure to deliver. Their team ranks based on an agency's market presence, project history, and quality of services. All reviews posted on Clutch are received via actual interviews and verified for authenticity.
We'd like to sincerely thank our clients for supporting us enthusiastically. Here's a message from our co-founder!
"It's hard to not enjoy being recognized for nearly two decades of work helping businesses grow their online stores. We love being part of our clients' success."
Lori Appleman, Co-Founder & E-Commerce Consultant of Redline Minds
Our success over the past years allowed us to receive an overall 4.5-star rating on our profile. Take a look at this excerpt on how we helped a health product company build their site with features such as search, catalog, and shopping cart capabilities: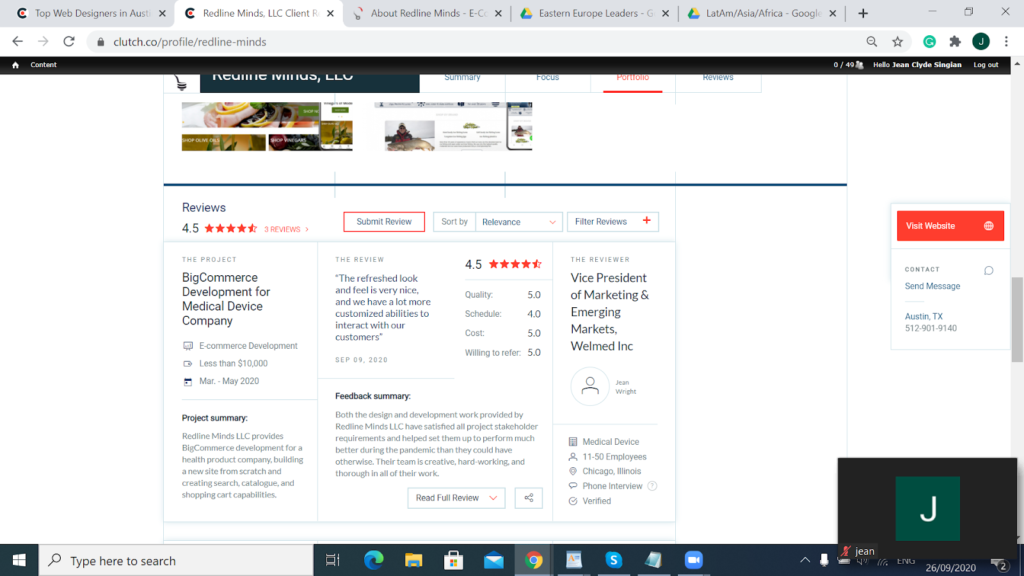 Once again, thank you to our loyal customers and to the Clutch team for making this honor possible! Redline Minds is ready to help anytime. Are you interested in receiving the best customer experience? Contact us today for a quick chat!
As a reminder, we are also a Certified, Woman-owned company!