"If you build it, they will come." That may work for baseball movies, but it doesn't work for online stores. You can have fabulous products and a site built to convert well; but if there aren't enough people who are interested in your products, you won't sell anything. You have to drive traffic to your website. What's more, just any old traffic isn't good enough. Those people coming to your website have to be interested in what your store offers. In an earlier article, I discuss the concept of the Marketing Funnel and how customers reach the point where they are ready and willing to buy. There are many ways to market your store online. When a return on investment is critical to your survival, the question that must be answered is "Which online marketing methods drives the most buyers?"
Different forms of online marketing drive buyers at different stages in the buying process. Where you spend can dictate both how fast you grow, and how quickly you have profits you can reinvest in your store's growth. This article covers the major options for online marketing, and discusses where they fit in the ecommerce marketing sales process.
Pay-per-Click Advertising
Adwords and Bing/Yahoo aka Search Marketing
Several advertising products exist that serve each stage of the funnel, while "cross-pollination" can allow for any ad to create an immediate sale. Pay-per-click (PPC) is a "bottom of the funnel" strategy. However Adwords, Bingads and Facebook offer tools for all stages in the funnel.
Search and Shopping feed the "Want" and "Buy" stages of the funnel but can be too expensive to serve the awareness and interest stages.
Display and YouTube advertising is used to bring about brand awareness and helps feed the consideration and want phases via retargeting.
Search and Display retargeting sends ads only to those that have already visited your website. These ads can be personalized based on which pages have been visited. They are used to further the journey to the buy phase.
All campaigns can be and should be, optimized for mobile audiences.
Keep in mind that both Google and Bing's ad networks feed many other search engines. While these other search engines are often small, they often drive the most engaged traffic. You should test to see what works best for your audience.
Facebook/Instagram
Facebook advertising is incredibly powerful. Well-designed Facebook campaigns deliver better returns than search engine advertising due to its visual nature and the ability to create extremely targeted campaigns based on funnel stage, interests, geography and behaviors.
Other social media channels
Twitter, Pinterest, Linked-in, Quora, Reddit and other social platforms all offer PPC advertising. As they are less used, they can be cheaper. You may want to test those that are popular with your target audience.
Shopping comparison engines
In addition to Bing and Adwords above, there are a number of shopping comparison engines that deliver site visits on a PPC basis including Price Grabber and Nextag.
PPC and retargeting networks
A number of advertising networks and/or retargeting networks are available that expand the reach and targeting for online advertising including Advertising.com, Amazon, Adroll, and Criteo.
Where should I advertise?
Where your customer is. Keep in mind that while nearly everyone uses Google search, this is by no means the only place you should advertise. Test different search engines, relevant websites and social channels to see what generates a positive return.
Social media marketing
Social media marketing has become a "must have" for most businesses, especially online stores who sell to consumers. More often than not, your social channels serve the Awareness and Interest areas of the funnel as they are used by consumers to gauge trust and learn more about a company. Social interactivity is also an important part of your public relations, brand representation and customer service chain. Social media feeds your advocacy by encouraging loyalty to your brand.
How to use social media
A wide variety of social media channels exist, but it is rare for a business to need all of them. Among the most popular US channels – Facebook, Twitter, YouTube, Instagram, Snapchat, Pinterest, Reddit, Imgur, Quora, Google+ and LinkedIn.  Choose the channels you'll support based on where your audience is, as well as how much time and resources you can afford to commit. It's better to choose fewer but do them well.
The best content for social media is useful for the reader, funny or controversial. Channels that offer nothing more than  marketing pitches generally don't do well. Intersperse non-paid promotional content sparingly among your more social content. The goal should be to engage your audience in commenting, answering questions and sharing. Re-share positive feedback from your customers.
Supportive and informative content, especially visual content, tends to do well. Think recipes for a company that sells food items or cooking gear; photos of products in use by actual users; demo videos; styled outfits featuring your clothing line, an AMA (ask me anything) live video session, links to your best blog content, etc.
Content should be tailored to each channel but often the same core content can be used on multiple channels with adaptation of the images or written messaging.
Facebook
Organic (unpaid) visibility for brand pages has diminished as Facebook continues to encourage paid advertising. For many brands, less than 6% of their fan base sees their unpaid content. However, the more engaged your fans are with your content, the higher the number of people who will see it. Post "boosts" are a low cost way to increase the visibility of your posts to your fans and friends. Boosted posts help grow your fan base.
Facebook groups are one of the last no-cost options for expanding your company's visibility. A Facebook group is a community, not unlike a forum, with a focus that is closely aligned to your business objectives. The group will discuss the topics among the membership. Any promotion within the group is limited to members.
When you own the group, you define the rules for participation. If you are participating in a group you do not administer, pay attention to the group rules for self-promotion. In most cases, overt promotion is not allowed and will get you banned by the group administrator. The exceptions vary by group, but typically you can promote your products or services in direct response to another user's request. Some groups have specific days for self-promotion.
Social stores
Several social channels now allow for stores to be set up where you can showcase your products and complete transactions. Facebook stores are free. Products can be purchased on Facebook or set to link back to your website to complete the transaction.
Instagram is releasing stores into broad use this year. Using software, your Instagram feed can be imported onto your website so your fans can easily shop the items they loved on your feed.
Pinterest has buyable pins that promote your products and allow for instant sales.
Email marketing /SMS
Email marketing often offers the best Return on Investment and, when used well, serves all stages of your funnel and encourages repeat purchases and advocacy.
Announce new products, services or sales. Emails can be used to introduce new products or sales but can do quite a bit more.
Welcome a new subscriber. Welcome a new user to your list with an email that sets their expectations for what they will gain by allowing your company to send them emails. Some companies set up a welcome series that educates their audience, encouraging a deeper relationship.
Recover abandoned shopping carts. Sometimes all it takes is a reminder to bring them back. Other times a gentle nudge, by way of a secret discount or bonus, will close the sale. Companies see an average 11% improvement in cart conversion rates when a well-designed recovery program is in place.
Ask for store or product reviews. 85% of shoppers consider product or service reviews as part of their purchasing decision.
Educate and inspire. Make your customers eager to open your next email by offering information that improves their lives. Help your customer have the best experience with your products by guiding their use or offering ideas for new uses.
Segment and target. Your business probably has more than one type of customer. Your email marketing campaigns can be segmented to send the right messages to the right audience. For example, a campaign for smartphone cases will likely perform better if your Apple customers see iPhone cases and your Samsung customers see Samsung cases. Sending either cases for Motorola phones will fall flat. Another example would be wholesale versus retail customers.
Ask for feedback. How are you doing? Are they happy? Do you have the products they want to see? Ask them. This can provide valuable information for making better business decisions. It can also demonstrate to your customers that their happiness matters to you.
SMS messaging, also known as text messaging, is a newer means of communicating with your audience. People are less likely to ignore a text message than an email. If your audience is younger, SMS is probably worth testing.
Facebook also now allows for marketing via their messaging platform.
Product Marketplaces
Product marketplaces are websites with their own branding and following where your products can also be sold. In some cases, you ship the purchased products. In other cases you ship inventory to the marketplace and they fulfill the orders. Amazon, eBay, Sears, Walmart, Groupon, Newegg and Rakuten are all examples of marketplaces. With the exception of those relationships where you sell inventory to the site, you generally pay on a Cost per Acquisition (CPA) basis.
Marketplaces can be useful in expanding the visibility and reach of your brand and products. They have a level of consumer trust a new or smaller company typically doesn't have yet. Your costs are minimal unless you makes sells which makes marketplaces a good option for limited budgets.
Potential negatives include:
Increased competition
You don't own the customer and may never have the information needed to establish an ongoing relationship.
It may be challenging to control the information displayed on product descriptions.
You may not fully control the way you run your business. Often shipping and return policies are dictated by the marketplace.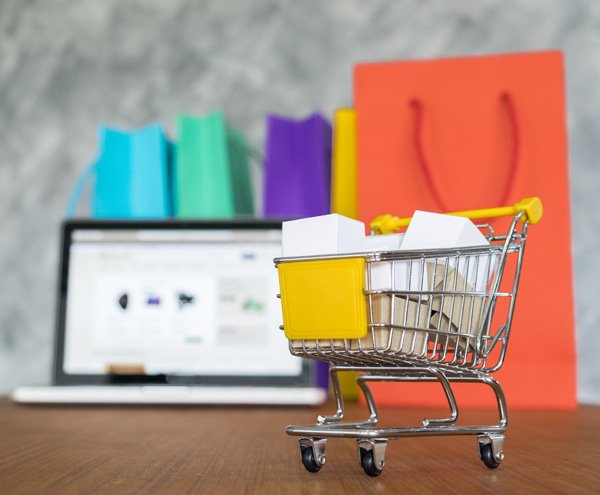 Content marketing
A blog is often the core of your content marketing plan. However, a blog is not your only content. Almost everything you do online is driven by content. An effective content plan takes all this into consideration and includes content that serves multiple purposes and channels.
Blog content makes great content for social media sharing
Video content can be featured on product listings to increase sales or shared on social to increase awareness of your products and services.
Quality blog content is often shared by readers and can introduce your company to new eyeballs.
SEO optimized content can greatly enhance your visibility in search driving unpaid traffic to your site.
Infographics designed to explain a product or how to use it can make great blog, social media, or email content.
Your written content can inspire trust and present your company as an answer or solution provider.
Product reviews and store / business reviews
As illustrated above, approximately 85% of online shoppers read reviews and consider them before making a purchase. Thus product reviews are important to retailers and manufacturers. Service businesses rely more heavily on business reviews such as those on Google, Facebook or Yelp. Store reviews can impact product sellers too.
It is to your advantage to be proactive to collect and manage reviews both on site and off site. A customer is more likely to make a buying decision sooner, and on your site, if they don't have to look elsewhere to get their answers. In addition, your customers often add useful insight that can present your product in new ways.
Contests / Sweepstakes
Contests are designed to keep your existing customers engaged with your brand and to encourage new users to subscribe to email lists and social channels so you can market to them. A good contest encourages entrants to subscribe to multiple channels and engage their friends to help expand your brand reach. Contests can also help to re-engage your existing customers.
Influencer marketing
Influencer marketing is a hot "buzz word" for 2017. In a nutshell, it involves getting other people who already have an established and engaged audience to present your products or company to their audience. This can create valuable social proof that your products are worthy and it can drive search engine visibility when it links into your website. It can also drive instant, buying traffic.
Blogs – can offer product reviews, how-tos, educational content, visual content (such as a photo of a styled outfit featuring your products) and more. Sometimes they write the content. Other times you write content for their blog. This content should link back to your website and products.
Video marketing – YouTube is the 2nd largest search engine and people go there to learn new things and get information on products before they buy. Your brand should be visible with high quality content. There are many individuals that have large followings on their YouTube channel. Those that have actively engaged audiences can talk about your products or brand. Other video sites are also available and may be relevant to your desired audience. Ideally these link to your products or website.
Podcasts – are the audio equivalent of video marketing and may also be useful to your business.
Social media – The goal here, just as above, is to have your brand and products discussed in a favorable light. Ideally, it links to the product or website. Instagram posts don't link out, but Instagram can still be extremely useful for gaining influence and spreading knowledge of your brand.
Affiliate marketing
Affiliate marketing is a program set up where other people, often influencers, write about your product and refer people via coded links to your website. Affiliates are paid an agreed-upon percentage for the sales they generate. The larger affiliate networks suggest that the general rule of thumb for sales expectations is to expect about a 20% bump in revenue.
However, there's quite a performance range that varies depending on how good your affiliates are, how visible they are, and how much trust your brand already has. Larger affiliates tend to prefer established brands. Affiliate programs can still be useful to a younger business when combined with influencer marketing and tightly controlled to prevent abuse and fraudulent clicks and orders.
Referral and loyalty programs
It's usually cheaper to keep a customer than to acquire a new one. New customers are more likely to trust your company if a trusted friend has referred them to you. These programs capitalize on both. These programs typically run on a points and rewards system. Loyalty and referral programs can be distinct programs or combined into one software program for easier management. Plus your customers will earn rewards faster.
So, which online marketing methods drives the most buyers?
Now that you've seen the options for online marketing, how do you pick those you should focus on? Most stores need to make money quickly so you need to invest in the "bottom of the funnel" options. This typically is paid advertising.  Some stores experience success on social media channels such as Instagram. However, if you don't address the rest of the funnel, you'll be reliant on expensive advertising. In a nutshell, start with those methods that generate immediate revenue. Use the incoming revenue to add in additional resources to expand your brand awareness, trust and authority. In time those methods will create a growing funnel to drive long-term growth for your store.